Getting Started with Brightcove Player Studio
This topic provides an overview of Brightcove Player Studio which is used to create, customize and publish video players.
To access Brightcove Player Studio, navigate to https://studio.brightcove.com/products/player. Sign in with your email address and password. The Studio home page will display.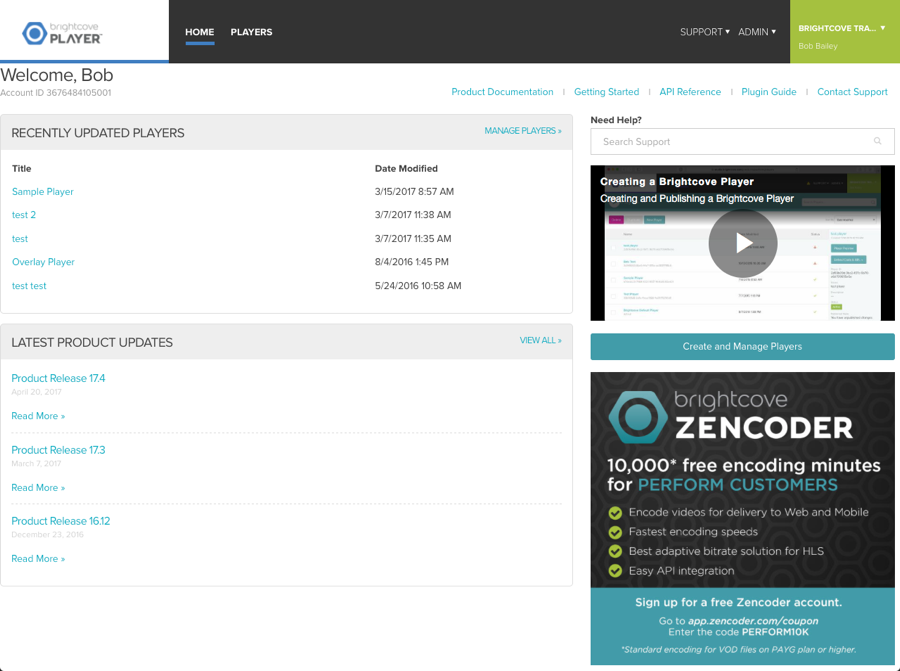 The home page page includes:
Players module
The Players module is used to create players, activate and deactivate players, edit player properties, generate the publishing code for players and delete players. For more information on the Players module, see Getting Started with the Players Module.
System notifications
The Studio header will display a bell icon

when there are system notifications available. Clicking the icon will display the list of system notifications.
Account settings
The account settings menu can be accessed from ADMIN link. The account settings menu provides the ability to:
Note: Only administrators have access to the account settings menu.
For more information on Account Settings, see Managing Account Settings.
Account selector & user profile
If you have access to multiple Brightcove Player accounts, the account selector can be used to select the Brightcove Player account you want to access. The user name and current account will be displayed in the upper right corner of the studio. Clicking the user name - account link allows you to select another Brightcove Player account to work with. Note that the current account is indicated with a dot preceding the account name.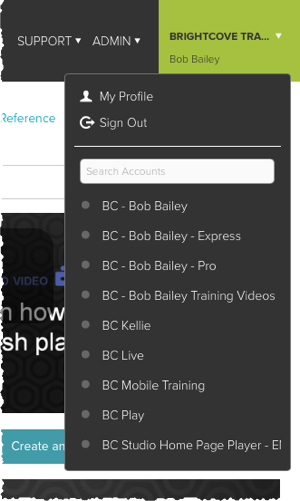 Click the My Profile link to update your user information, password and email address. For more information, see Profile Information.
Recently updated players
The body of the page contains a Recently Updated Players section containing a list of the five most recently updated players. Clicking on a player opens the player in the Players module.

Clicking the Manage Players link or the Create and Manage Players button will open the Players module.