This document provides an overview of the Video Cloud Flash-only player framework, a powerful way to build customer-facing video-centric user interfaces for your Flash players on your websites.
The framework is built entirely in Flash Player 9 technologies for fast performance, secure communications and true full-screen video playback. By understanding the elements that make up the Flash-only Player API, you can better control the look and feel of your user's video experience.
This article addresses solutions for the Flash version of the Video Cloud player. Video Cloud supports two APIs for developing customizations and dynamic solutions for their players: the Flash-only Player API, for solutions for Video Cloud Flash players, and the Smart Player API for solutions for smart players, those players that serve Flash versions of the Video Cloud player where supported, and otherwise serve HTML versions. For a reference to the methods and events for coding Flash players only, use the Flash-Only Player API Reference. For more on creating dynamic solutions for smart players, see Using the Smart Player API.
The Architecture of the Flash-Only Player API
The Flash player framework is composed of players, components, and widgets, each of which exposes APIs for working with their specific functionality. Flash-only player components include high-level functionality like Advertising, Video Playback and API interfaces, as well as UI-based functionality like the VideoPlayer, TabBar, and Image objects. Both types of elements are required for a functional experience, although the goal of the Flash-only Player API framework is to make it possible for you to mix-and-match these elements for a custom look and feel.
You can arrange components in a Video Cloud player. In the Video Cloud Studio Publishing module, you can create instances of players based on player templates that have already been defined.
As a partial Flash player alternative to the Flash-only Player API, you can use the Brightcove Experience Markup Language (BEML), an XML markup language that defines the components, layout, and style of a Flash player. Using BEML, you can create custom player templates and add them to your Video Cloud account using the Publishing module. You can also access the Flash player's components using the Flash-only Player API. For information about using BEML, see Customizing Players with BEML.
The following is a diagram that demonstrates a few of the components available in a player (a Tabbed player in this case).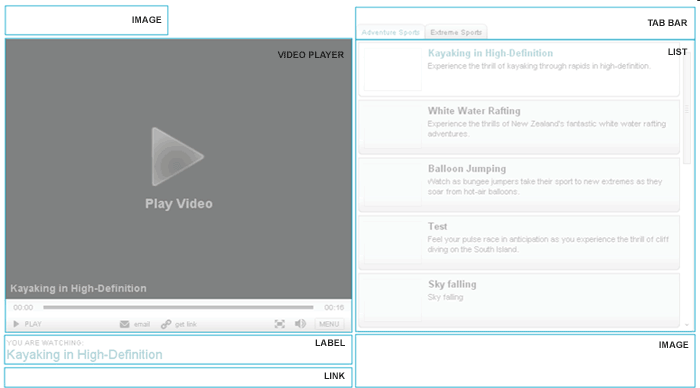 Figure 1. Components in a Tabbed player.
If you enable the API for your Flash player, you can access and control the player and its components using JavaScript or ActionScript, depending on whether you choose to publish a player in an HTML page or Flash application. Additional resources for using JavaScript and ActionScript are listed below.
Additional resources
The following references will help you learn about the elements in the Flash-only Player API.
Using these resources, you can learn how to use the Player API to customize, integrate with, or add functionality to your players.