Configuring the Video Content Properties for a Player
This topic provides an overview of the video content properties that can be configured for a player.
Configuring video content settings
The video content settings control the media dimensions, poster image and the video content that appears in the player.
To configure the video content settings, follow these steps:
Click Players in the navigation header to open the Players module.
Click the link for the player you want to configure.
Locate the Video Content section and click Edit.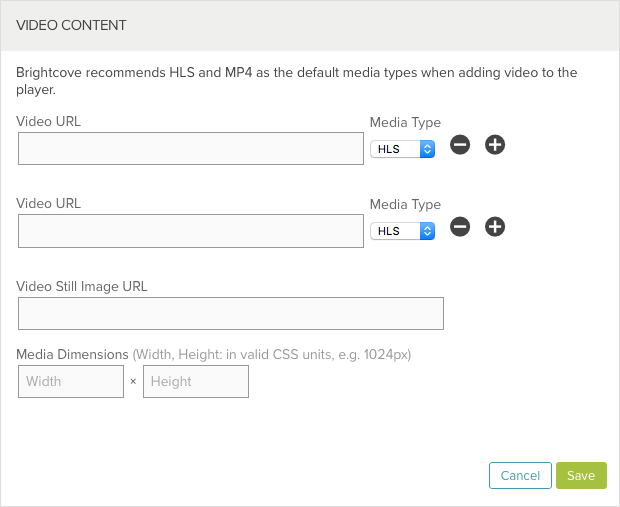 The following video content settings can be configured:
Note: Any changes made to a player may take up to 5 minutes to appear in published players.
Video URL
The Video URL is the URL of a video file to load into the player. Providing both HLS and MP4 assets will allow for the widest browser, platform, and device support. If multiple video assets are listed, the player will attempt to play the first one listed. If it cannot (like MP4 on iOS), then the second video is tried, and so on.
Note: Rendition selection can occur with HLS (m3u8) files as the master file itself can contain multiple renditions. Rendition selection for non-HLS delivery types is not possible, therefore, multiple MP4 video URLs should not be added.
Video Still Image URL
The video still image URL is the URL to an image that will be displayed inside the player until the video is played.
Media Dimensions
The media dimensions are used by the player to determine the aspect ratio of the video. Enter the media dimensions for one of the video files that is provided in the list of video URLs.
Note: To set the player size for an iframe player embed, edit the player settings and configure the Fixed Player Dimension properties.