This topic discusses how to choose the best transcode settings for delivery to mobile devices.
Because customized transcode settings are available only to Video Cloud Pro and Enterprise publishers, this information is not relevant for Video Cloud Express publishers.
Codecs and containers for mobile devices
Different mobile devices support different codecs and containers for video. Below is a summary.
Android OS devices
Flash Player 10.1 is supported on devices that run Android OS 2.2 and up, and therefore videos in the FLV container will play back on those Android devices. However, for the greatest flexibility and quality, you are better off using the H.264 codec and MP4 container.
Note: Adobe has announced that mobile Flash will no longer be supported on Android beyond version 4.0 Ice Cream Sandwich.
Apple iOS devices
Apple iOS devices (iPhone, iPad, iPod Touch) do not support Flash or the FLV container. To deliver your video to an Apple iOS device, you need to make sure your video:
uses the H.264 codec
uses either the MP4 container (for HTTP delivery) or the M2TS container (for Apple HTTP Live Streaming)
For iOS devices, the player uses an Apple HTTP Live Streaming rendition if available otherwise plays an MP4 rendition.
For more details on Apple's recommendations, see this document.
Content delivery options for mobile video
Apple iOS devices like the iPad, iPhone, and iPod Touch support only Apple HTTP Live Streaming and HTTP (progressive download) for delivery of video files. FMS-based RTMP streams are not supported. You need to ensure either that your videos have one or more available renditions that work with Apple HTTP Live Streaming, or that your account is set up to permit HTTP based delivery. Read about Setting Video Delivery Options.
Using Apple HTTP Live Streaming
Video Cloud supports video delivery to Apple iOS devices using Apple HTTP Live Streaming. To use this method for video delivery, a video must have one or more available renditions that use the M2TS container. The iTunes App Store rules call for the use of Apple HTTP Live Streaming for long form video content (greater than 5 Mb or 10 minutes). For more infomation, see Delivering Videos with Apple HTTP Live Streaming.
Enabling HTTP (progressive download) delivery
Your Video Cloud account is usually configured for progressive download (PD) (HTTP), streaming (FMS) (RTMP) based delivery, or universal delivery service (UDS), which enables either PD or FMS delivery. To check that your account is configured for UDS:
In Video Cloud Studio, go to Account Settings > Publishing Settings.
Under Universal Delivery Service, see if it shows Universal Delivery Service: Enabled. If not, click Edit to enable it.
To check what delivery mechanism a particular file is using:
In the Media module, select a video and click Edit.
In the Video Files tab of the Edit Video dialog, select and rendition and check the Delivery Type.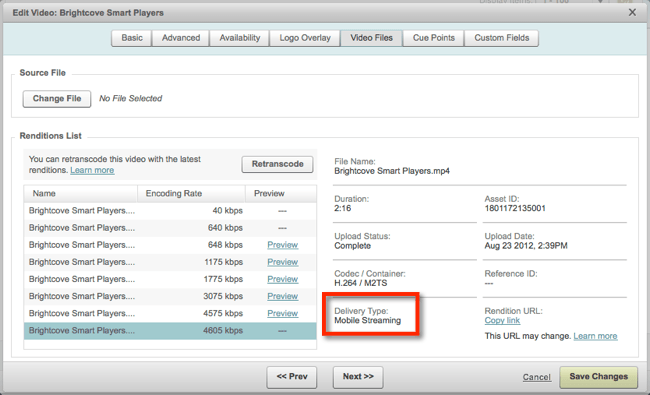 Encoding recommendations for maximum flexibility
If you are like most publishers, you won't want to restrict yourself to just one type of video delivery or just one type of device. You'll want your videos to be available and to look good on every device your viewers might choose (desktop computers, mobile phones, tablets, TV sets). Using Video Cloud's multiple renditions feature, you can create enough renditions of each of your videos so that there are available renditions optimized for each device and situation.
In addition to making sure you use a supported codec, you will want to deliver the videos at an encoding rate that can be expected to play back reasonably well on a mobile device. You need to find a balance that will not take too long to buffer while still delivering a high quality viewing experience.
The encoding settings in the following table provide a broad range, but are just suggestions. The exact settings you choose can depend on the quality of your source files, the nature of the video content, and the ways your viewers consume your content.
Note: The first entry in your Multiple Renditions settings is the Primary Rendition, the first one to be generated in the transcoding process. This should not be an iOS rendition (using the M2TS container), as this will delay the availability of your videos for general playback on other platforms.
Quality
Codec Profile,
Container
Video
Bitrate (kbps)
Audio
Bitrate (kbps)
Dimension (WxH)1
Frame
Rate (fps)
Bitrate
Type
Description
Medium
H264_BASE, MP4
600
64
480x270
480x360
30
VBR
For desktop machines, tablets and other devices with Flash support
Low
H264_BASE, MP4
270
64
320x180
320x240
30
VBR
Medium
H264_BASE, MP4
425
64
400x225
400x300
30
VBR
High
H264_MAIN, MP4
1100
128
640x360
640x480
30
VBR
High
H264_MAIN, MP4
1700
128
800x450
800x600
30
VBR
High
H264_MAIN, MP4
3000
128
1024x576
1024x768
30
VBR
Cell fallback for audio only
H264_BASE, M2TS
962
40
50x502
na
CBR
For iOS devices
Low
H264_BASE, M2TS
200
40
480x224
480x360
15
CBR
Medium
H264_BASE, M2TS
400
40
480x224
480x360
30
CBR
High
H264_BASE, M2TS
1800
128
960x540
960x720
30
CBR
1. The dimensions are given for both 16:9 and 4:3 aspect ratios. For more information about the relationship between the source file dimensions and the transcode settings dimensions, see Width and Height in Setting Your Transcoding Options.
2. Note that an audio-only rendition will not really have a video bitrate or dimensions, but Video Cloud Studio does not permit you to set values lower than these. The video bitrate and dimension settings will be ignored for an audio-only rendition.
3. When setting renditions for iOS devices, be sure to use the BASE codec container setting, not the MAIN or HIGH settings or the player will report a "This movie cannot be played" error.
We recommend a keyframe rate of 2 in most applications, and two-pass transcoding for all but audio-only renditions.
Uploading video for mobile delivery
When you upload a video, the settings you choose for the upload can override the transcode settings you chose for your account. Therefore, it's important when you upload a video to make sure your upload settings are consistent with your transcode settings. Let's review how to upload a video in the Media module:
Click the Upload Videos button in the Media module.
Browse and select one or more videos to upload from your local hard drive.
Note the Edit Settings link toward the bottom of the Upload dialog.

Click the Edit Settings link. For mobile delivery, make sure you have selected H.264 (MP4) for your output options. Your H.264 (MP4) renditions will be created only if this output option is selected. Regardless of what you select, if your account's transcode settings include one or more renditions with the M2TS container, those renditions will be created.
Related information