| Product | Edition |
| --- | --- |
| Video Cloud | Express I, Express II, Express III, Professional, Enterprise |
In this topic you will learn how to edit video properties in the Media module.
In the Media module, you can edit the properties of a single video or select multiple videos and edit the properties for all of the selected videos at the same time. You can edit the properties for up to 100 videos at the same time. This can save you considerable time if you have a large volume of videos.
If you aren't familiar with the Media module, read Getting Started with the Media Module, which provides a tour of the Media module and explains how to launch it.
This topic includes the following sections that show you how to edit different video properties in the Media module:
How to edit video properties
To edit the properties of a video, use the following steps:
In the All Videos workspace, select the videos you want to edit and click Edit in the action toolbar.
In the Edit Video dialog, select the type of properties you want to edit: Basic, Advanced, Availability, Logo Overlay, Video Files, Cue Points, or Custom Fields. Not all of these choices will be available for every account.
To edit the properties of several videos at once, select all of the videos you want to edit and click Edit in the action item toolbar. Be careful, however, as any edits you make apply to all of the videos you selected.
Alternately, click the up arrow on the Edit button to jump directly to a particular set of video properties (Basic, Advanced, Availability, Logo Overlay, Video Files, or Cue Points).
You may also click on the Edit link or icon for the property in the Details pane to open that video property in the editor. Note that when you edit a video from the Details pane, you edit only the video presented in the Details pane, even if you have more than one video selected in the data grid.
Note: Changes you make to a video's properties apply globally to all instances of that video, in every playlist.
Editing Basic properties
In the Edit Video: Basic edit page, you can select the property to edit by clicking its checkbox or clicking in the field. Selected properties are highlighted for easy reference. You can edit or add:
The video name (no more than 255 characters)
A short description (no more than 250 characters)
A long description (no more than 5000 characters)
A related link (a standard web URL, beginning with http:// or https://) and link text (each no more than 255 characters)
A reference ID (no more than 150 characters). A unique ID assigned by a publisher to a video or playlist. The reference ID (ref id) is distinct from the video ID or playlist ID (lineupID), which are unique IDs generated by Video Cloud. The reference ID enables coordination between Video Cloud and other services, such as a publisher's content management system. Note that you can't batch edit the reference ID, since you never want two videos to have the same reference ID. Also note that even after deleting a video, the reference ID can't be reused on another video. Reference IDs must always be unique.
One or more tags, separated by commas. You can use tags to add videos to smart playlists, or to find videos using the Media API. As you enter a new tag, autocomplete suggestions appear, based on tags in use for other videos in your account. You can remove existing tags by clicking the x next to the tag's name or click Clear all to remove all tags from the video.

Tags will be truncated if they are longer than 128 characters
A video can have no more than a total of 1200 tags
Only the first 100 tags are cached and will be the only ones that are available via type ahead

When you have finished editing the Basic properties, either click Save Changes or select one of Advanced, Availability, Logo Overlay, Video Files, or Cue Points to edit more properties.
See this document for a list of special characters that are supported in the title, descriptions, tags, and custom field values.
Editing Advanced properties
If your Video Cloud account has advertising enabled, you can use the Edit Video: Advanced page to define the advertising and distribution policies for the video and set a bumper.
Economic model
You can choose whether or not ads may be shown when viewers watch the selected video(s). If you allow ads to be shown, you can also force an ad request for the selected videos.
Note: You can also configure these settings from the Advertising module. It is important to understand that the selections you make in the Media module have the same effect on your videos as the selections made in the Advertising module, and vice versa. The Advertising settings are shared (in other words, they are the same settings) regardless of which module you set them from. You can view or edit these settings in either of the two modules. If you change these settings in one module, your change is reflected in the other modules.
You can edit ad policies for videos and players in the Advertising module.
Closed Captioning
You can associate a captions file to a video. The captions file can be hosted on your servers or uploaded as part of the video metadata and stored by Brightcove. To learn more about captioning, see Displaying Captions for a Video.
Bumper
You can set a bumper, which is a short video clip, to play before the selected videos.
Click Upload to browse and upload a new bumper video
Click Select to select an existing bumper
Click Clear to remove an already-assigned bumper
Distribution options (viral sharing)

You can control whether to allow sharing of publishing code for blogs. Viral sharing allows your viewers to syndicate individual videos from your players and is a necessary setting to enable the "get code" button in the player. You can disallow this by selecting No under Distribution options: Allow viral distribution for this video.
Note that selecting No for this option only disables the sharing of the player code for blogs. The email and social sharing buttons will still appear and be functional. These options can only be disabled at the player level.
Note that enabling advertising and ad key/value pairs can also be set at the player level, using the Advertising module. For more information, see Setting Ad Policies for Players. You can also set bumpers at the player level, using the Publishing module. For more information, see Editing Settings for Players with the Publishing Module.
Editing Availability properties
Video scheduling and geo-filtering are not available for Video Cloud Express customers. If you are interested in upgrading your Video Cloud account so that you can edit Availability properties, please contact Brightcove for more information.
In the Availability tab, you can schedule the availability of a video by selecting a start date, an end date, or both. You can, for example, choose to have a video be available indefinitely, starting at a specific date and time. By default, videos have no scheduling information and are available immediately and indefinitely when they are active. The Availability tab displays the time zone set for your user profile by default. You can change this time zone in your Profile settings page from the Video Cloud Studio Home page.
If your Video Cloud account has geo-filtering enabled, you can use the Availability tab to specify that a video is only available in limited geographic areas. Read more about geo-filtering videos.
Editing logo overlays and burned-in logos
Logo overlays display a logo in the corner of the video player window. Optionally, your logo overlay can link to a web site you specify. In the Edit Video: Logo Overlays page, when you enable using a logo overlay, you can edit:
Logo image. Specify an image file to use for your logo overlay. The logo overlay image file must be a transparent PNG or GIF file. The image you use for your overlay should be at 100% scale when viewed in a 480x360 video player window and will be scaled proportionately to fit smaller videos. Click the link in the Media module to download a Photoshop template that can help you create your own logo overlay image. For more information, see Adding Logos to Your Videos.
Logo URL. If viewers click on your logo overlay, they are sent to this URL.
Logo tooltip. If viewers move their mouse over your logo overlay, this text is displayed as a tooltip.
Logo alignment. Where the logo overlay is positioned in the player's video display. Select one of the following options: bottom right (the default), bottom left, top right, or top left.
You can set logo overlays at the account level using the Video Cloud Studio Account Settings page. If you have a logo overlay set at the account level and also set a logo overlay for a video, the logo overlay set for the video will display and the account level logo overlay will not display.
You can also set your account to add a burned-in logo to your videos when they are uploaded and transcoded. In most cases, you don't want your video to have both a burned-in logo and a logo overlay, so don't add a logo overlay to your video if it already has a burned-in logo. You can check whether a video has a burned-in logo by previewing it in the Media module.
You can also add and control logo overlays using the Player API, as shown in this example.
Replacing video files
Each of your videos has at least one video file. It may have more than one if you are Using Multi-bitrate Streaming. After you have created a video, you might want to replace the video file with a new version. See Replacing an Existing Video for details on how to do that.
Downloading video files
You can download any rendition file of your videos delivered by progressive download or universal delivery service from the Video Cloud Media module. To download a video uploaded to Video Cloud do the following:
From the Video Cloud Studio Media module, select the video and click Edit in the action toolbar.
Select the Video Files tab.
From the Video Files tab of the video editor, select a rendition to download, then from bottom of the right, copy the link for the Rendition URL.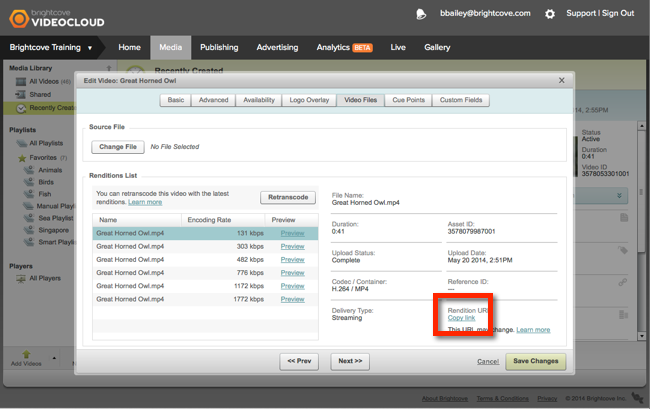 Paste the rendition URL in a browser and save or download the video from there.
Note: You can download a copy of an H.264 video you originally uploaded to Video Cloud if, when you uploaded multiple renditions, you selected add H.264 source as rendition. In this case, select the largest rendition with the highest resolution. See Uploading Videos with the Media Module for specifics.
Editing Cue Points
In the Edit Video: Cue Points edit screen, you can add or remove cue points for the video. Read Setting Cue Points in the Media Module for details.
Activating, deactivating, and deleting videos
To activate or deactivate a video, select the video and click the Activate or Deactivate button in the action toolbar. You can select one video at a time, or you can select multiple videos to activate or deactivate. The icons to the left of the video in the Media Library identify whether it is active or not. A video that is not active remains in your Media Library and in any playlists it is part of, but cannot be played in any player.
To delete a video from the Media Library, select the video and click Delete in the action toolbar. At the prompt, click Delete. You can delete one or many videos at the same time. You cannot delete a video that is currently part of a manual playlist.
Editing Video properties in the Details pane
You can also access the edit page for a video's properties in the Details pane.

Click Edit or the adjacent icon to edit:
short description
tags
related link
economics
scheduling
countries
reference ID
Note the following:
When you initiate an edit from the Details pane, you edit only the video presented in the Details pane, even if you have more than one video selected in the data grid.
Not all properties are editable for all accounts; for example, you can edit countries only if you have geo-filtering enabled for your account and economics only if you have advertising enabled for your account.