What compression format do I upload to Video Cloud?
Brightcove recommends uploading a video source file encoded as an H.264 format to leverage optimum quality for the widest range of delivery targets. The H.264 codec offers the maximum opportunity for Video Cloud's transcoding engine to create the highest quality renditions for the range of resolutions and bandwidths where your video plays. See Supported Video Codecs and Containers for more on the distinction between codecs, containers, and file types. For detailed specifics on the best format for your Video Cloud video uploads, see Video Source File Specifications and Recommendations.
Checking your video's codec
To be sure your video source file is encoded in a H.264 format, you can verify the format in the QuickTime player's movie inspector:
Open QuickTime Player. You can get QuickTime for free at http://www.apple.com/quicktime/download/.
Select File > Open File... and choose your exported video file.
From your opened video in the QuickTime player, select Window > Show Movie Inspector.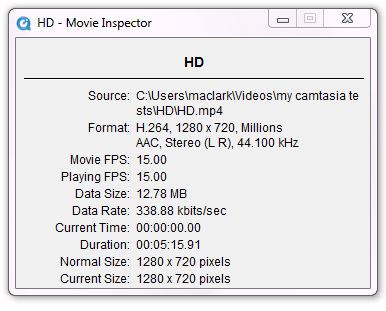 In the movie inspector window for your video, check that the Format is H.264.
The QuickTime movie inspector is a handy tool for reporting the format, resolution, frame rate, and other properties of your compressed video source file.
Guiding principles when exporting from video editing software
When compressing and exporting videos from your favorite video editors, we recommend compressing your videos in using an H.264 codec and letting Video Cloud automatically create renditions best for multiple resolutions and bit rates. In addition, we recommend:
Opt out of Flash. When rendering your videos from video production software, select an H.264 codec option, that is a codec, or container other than Flash or SWF.
Avoid single-target formatting. Avoid the streamlined encoding options that come with your editing software offering a one-click solution to encode your video for a specific target such as the web, iPhone, YouTube, DVD, or BlueRay. To let Video Cloud take care of distribution for you, format your video using QuickTime conversion settings that creates the most flexible native H.264 codec, and let Video Cloud create multiple renditions from your single H.264 upload to serve to multiple distribution targets including the web, iPhone, and YouTube, as well as multiple resolutions and connection speeds.
Multi-pass, if you have the time. Best practices advise uploading the highest quality video possible, and multi-pass processing is one of the best practices for creating a quality source file. Under some conditions, the marginally improved quality of your video might not justify the time it takes to encode using a two-pass process. Two-pass encoding can reduce the incidence of video artifacts and provides the most benefit to videos that have areas of high motion.
Don't be stingy with file size. Video Cloud is built to handle large file uploads, and does not charge for large files. If you're used to compressing files for the sake of successful uploads or for cutting costs, don't. Be sure to upload a high quality source file.
Get us a high quality file. We recommend a source with 2-3x the bitrate of the highest rendition you expect to generate. So if you intend to have a top rendition with a video bitrate of 3 Mbps, the you would want to upload a source video with a bitrate of 6-9 Mbps. Video Cloud Express customers have access to fixed renditions and need not exceed the bit rate for their fastest rendition when considering data compression rates. Video Cloud Pro and Enterprise customers should consider the bit rate of their current fastest rendition as well as any rendition they might opt to create in the future when re-encoding existing videos with new transcoding settings. Also remember, sometimes videos that have too much data do not stream via HTTP smoothly. Excessively high quality video can cause buffering.

Stay consistent with the frame rate. Export at the frame rate you shot at to avoid stuttering. Also, if the export frame rate setting is not the same as the source, you risk asynchronous video and audio tracks.
Keep a copy of your native file: It's a great practice to save your native video files in case you want to edit them, compress them anew, or re-encode them. Re-encoding existing videos is available only to Video Cloud Pro and Enterprise publishers. You may find after publication that your video would benefit by making changes to the exporting settings. Video Cloud does provide a way to re-encode your video from a higher quality source file, which allows you to keep all the metadata assigned to a title but to upload a video in the latest most flexible encoding format.
Consider action and size when exporting for high resolution: High resolution videos especially benefit from using minimum bit rates while maintaining quality play. See High resolution encoding recommendations for bit rate minimums when considering video size, aspect ratio, and the amount of action in the content.
Adopt a mobile strategy. If you want to show your videos on mobile devices in addition to desktop monitors, you must encode your videos to the flexible H.264 format and consider other encoding options. See the Encoding recommendations for maximum flexibility table of settings in the Encoding for Mobile Delivery article.
Step-by-Step export instructions
For recommended specific instructions to export videos from Final Cut Pro 7 for MAC, and Camtasia Studio 7 for PC, see Exporting High Quality Video Source Files with Popular Video Editing Programs. If you're exporting from iMovie, and Snapz, consider the guiding principles listed above, as well as the Final Cut Pro 7 processes; the Final Cut Pro video and audio compression settings are identical to those for iMovie and Snapz.