Configuring Player Controls
In this topic you will learn how to configure the controls for a player.
Player controls such as a quality selector, fullscreen control and vertical volume slider can be configured for a player.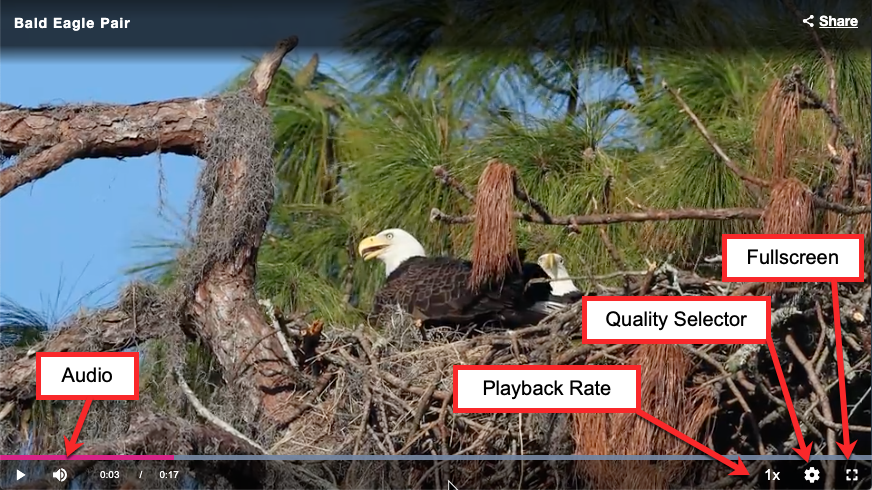 To configure the Controls properties, follow these steps:
Click Players in the navigation header to open the Players module.
Click the link for the player you want to configure.
Click Controls in the left navigation menu.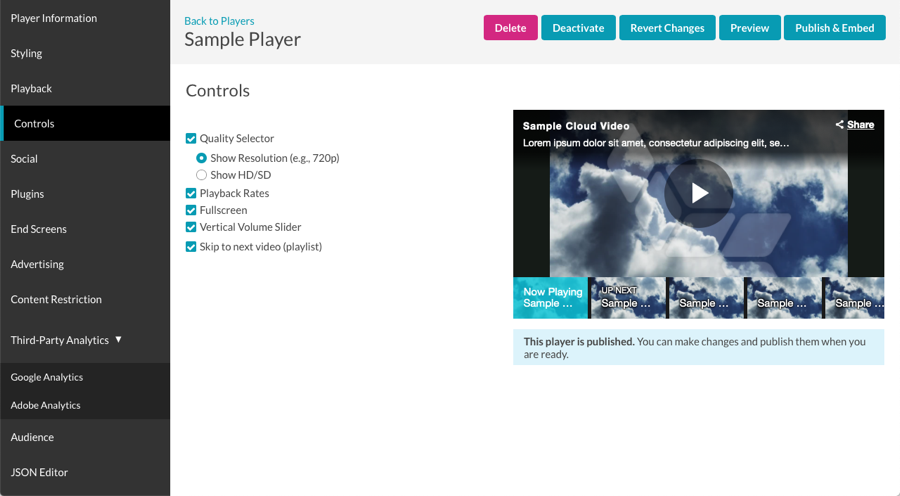 The following controls can be configured:
After any changes have been made, make sure to republish the player for the changes to be visible.
Note: Any changes made to a player may take up to 5 minutes to appear in published players.
Quality selector
Enabling the Quality Selector provides the ability to manually select a different rendition as the video is playing. A gear icon will appear in the bottom right corner of the player.
Note: The quality selector requires Brightcove Player version 5.17.0 or newer and may not work with all browsers.
When the Quality Selector is enabled, two options for the Quality Selector Label are enabled:
Show Resolution (e.g., 720p) - Renditions will be displayed by lines of horizontal resolution

When using this option, another parameter (resolutionLabelBitrates) can be added to the Quality Selection plugin to also display the bitrates.

This must be done by editing the plugin parameters as there is currently no way to configure this option using the Players module UI. For more information, see the Quality Selection Plugin document.

Show HD/SD - The player will look at the bitrate information for each rendition to determine whether it is SD or HD
Fullscreen
Select Fullscreen to enable the fullscreen control. The fullscreen control provides the ability to resize the player to fill the entire display. When the video starts playing, a fullscreen icon will appear in the bottom right corner of the player.
Vertical Volume Slider
Select Vertical Volume Slider to display the volume slider vertically.

Skip to next video (playlist)
Select Skip to next video (playlist) to enable the skip control. The skip control can be clicked to advance to the next video in the playlist.